How do you know when plantains are ripe? Sometimes it may be difficult to tell if it has reached the perfect level of ripeness for cooking, but there are ways to determine whether or not your fruit is ready.
This powerhouse fruit is simply too good to give up easily if you are not able to spot the good ones from the ones you'd rather pass. With the tips found here, you do not have to hail from Southeast Asia or from central America to pick the good ones.
Jump to:
If you are familiar with the appearance of plantains fresh from the tree, knowing how to tell when they are ripe may be easier. I consider myself lucky for that as I have seen the color change that these fruits undergo.
From the time they are little buds to the green stage and onto the stage where they get their character, it's just beautiful the way they mature.
When you pick your green plantains from your local grocer, they will need to be ripe with natural sugar or left to ripen before they can be cooked. However, once you let the sweet flavor mature, the taste is worth all the patience.
If you are looking for an easy way to cook plantains, be sure to check my recipes like sweet plantain recipes, Plantain halwa or fudge, green plantain stirfry.
What are plantains?
Plantains are a type of banana typically found in tropical Latin American and Asian countries. However, the texture of sweet plantains will differ greatly from a ripe banana.
They also have thicker skins and a lower glycemic index compared to bananas. So the similarities with bananas stop with the looks. Understandably lot of people mistake these raw plantains for green bananas.
Being a great source of vitamin A, C and Iron, this starchy vegetable can be an MVP on your dining table!
Plantains can be either cooked or eaten raw depending on the ripeness of the fruit. Let us look at what a ripe plantain looks like...
What does a ripe plantain look like?
A ripe plantain will typically have very black or dark skin and feels soft to the touch. Yellow plantains are also the ones that are in the right stage of ripeness that you can count on.
Unripe plantains, however, will be green on the outside with no black spots and a firm, yellow flesh inside.
One other easy to tell them if they are ripe is to try and peel the skin a little. The skins peel off relatively easily with ripe plantain.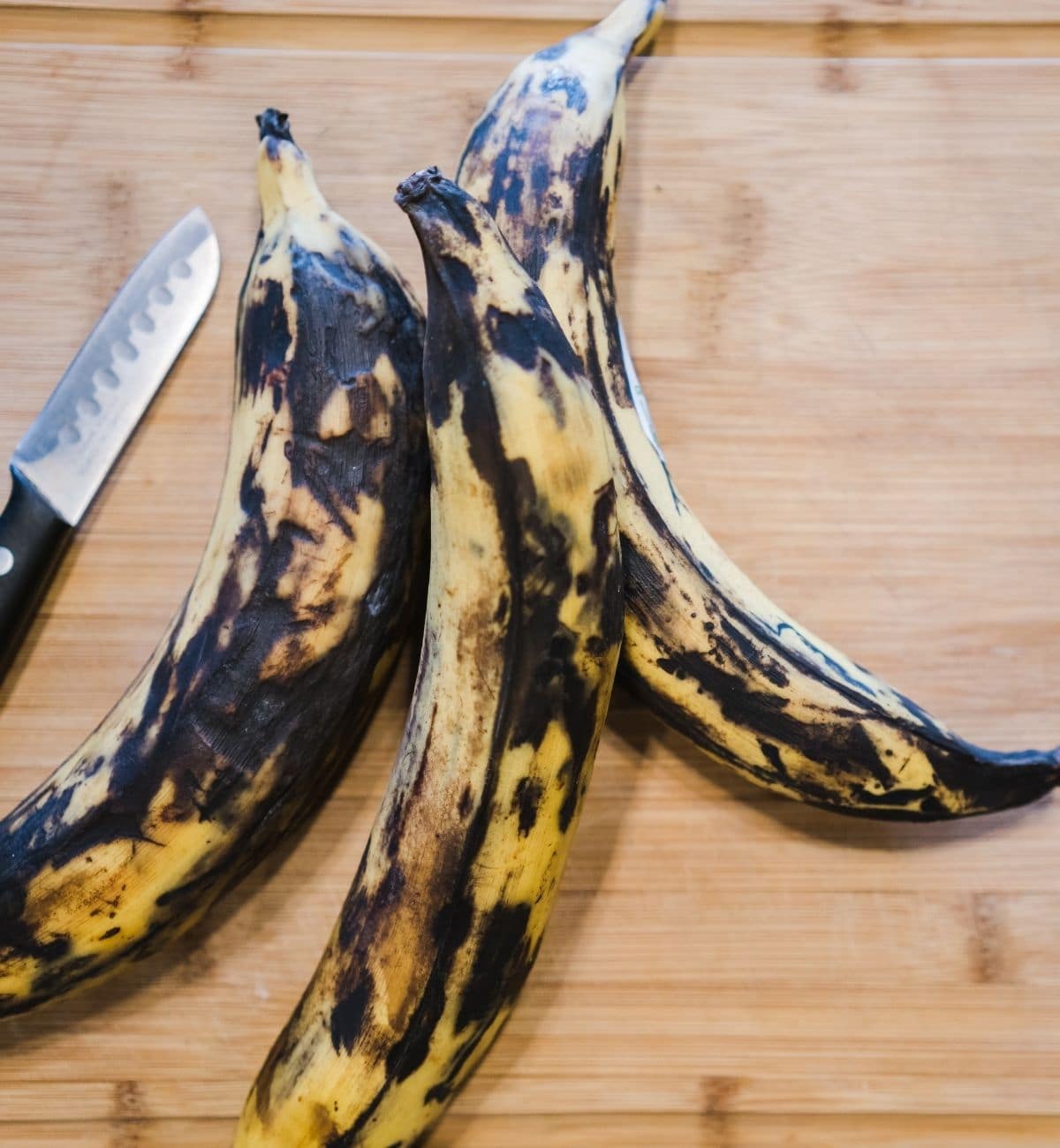 It is still not too bad if you buy raw plantains because there are some exciting snacks that they are suitable for! The yellow flesh inside the plantains allows them to be fried or baked.
Deep-fried plantain slices sprinkled with a bit of black pepper and salt can be a mouth-watering snack for any day.
Another way to tell if plantain is ripe is by cutting it open and observing the pulp inside.
If the fruit is green with some yellow coloring, it is not mature yet. As you continue to ripen your plantains, they will become primarily black and mushy looking on the inside.
At this time, you should be able to easily mash your plantains with a fork to use in recipes. So if you find black plantains at your local grocer, it does not mean they are going bad!
Likewise, plantains with brown spots are slowly ripening, and the natural sugars are starting to evolve.
Although they turn black and mushy when ready to be cooked and eaten, this may take up to two days or more at room temperature.
I store plantains if I find only the raw (green) ones and wait for the dark spots to show up gradually. If you are in a hurry to use them quicker, try these tips to expedite the ripening process...
How to ripen plantains
There are numerous ways to do this: You either wait and let them ripen naturally, or you can speed up the process by exposing your green plantains to ethylene gas. Don't worry! It is easier than it sounds.
If you choose to wait it out, simply place your fruit in a warm (but not hot), dry, and dark location and wait for them to turn yellow/green/black--whichever stage is best for baking/frying.
If you want to speed up the process further, wrap it in a brown paper bag along with an apple, banana, or tomato (which produces ethylene gas).
To test if they're ripe, check if they yield slightly to the touch and if the skin is soft and peeling.
Stages of ripeness
As the green plantains turn yellow and darken into bright orange plantain and eventually to black, every stage of the process lends it to different recipes. You just have to choose the right type of ripeness for your recipe.
Can we cook ripe plantains?
Yes. There are recipes for the ripe plantains too! Ripe plantains are the sweetest type and taste divine by sauteing them on a nonstick skillet with a slight drizzle of olive oil and salt over medium heat. Check some of my ripe plantain sweet recipes if you are looking for more options... Sweet plantain recipe, Plantain fudge, or halwa
Ripe plantains can also be baked whole with their skin on. When baking them, simply slice an X on them, so they do not explode and make a mess in your oven.
Baked ripe plantains can be used as a dessert when paired with ice cream or sprinkled with cinnamon and sugar. They can also be a great side dish for a spicy main course.
Types of plantain, and where do you find these?
Many types of plantains, including red, green, and yellow/black, grow naturally in tropical regions. Green is the most common type of fruit in most grocers. I get mine from local Asian stores, and they sell ripe and raw plantains.
How to cook unripe green plantains
Raw green plantains taste the best in various dishes like the Indian-style stirfry (balekai palya)recipes or deep-fried chips.
There are several cooking methods ranging from baking them whole (after a brief saute) to boiling them to use in curries. Check out my recipes for more details!
Unripe plantain tends to absorb a lot of moisture, so be sure to adjust the water levels in your curry.
Last but not least, you can roast the whole fruit in the oven until tender, then scoop out and mash it like a potato.
Conclusion
Plantains are a type of banana that is green when unripe but they turn black or dark brown as they ripen. If your plantain has very black skin and feels soft to the touch, then it is ripe.
One easy way to tell if you have an unripe plantain is by peeling the skin off just a little bit - if it comes off easily, then you know you don't have much time left before this fruit will be ready for eating!
Remember these tips in order to figure out how to identify whether or not your plantain is ripe so that you can enjoy them right away!
Just subscribe to my newsletter for more delicious vegan recipes such as this sent directly to your inbox.