Anytime from March through July is a good time to enjoy tropical fruits like Pineapple and Mangoes and on that note, I am going to share my recipe for Pineapple rice cooked in Instant Pot!
It is a quick and easy one with a hint of spices and tons of tropical flavor. Pineapples turn sweetest during early summer and that makes them a good option for rice dishes such as this recipe.
As always is the case with Instant Pot recipes, it took less than 30 minutes to prepare, cook and set the Instant Pot into action. And the result is a gourmet lunch or dinner option for your entire family.
For this recipe, I used basic Indian spices and fresh vegetables along with sweet-tasting pineapple.  I think the most common recipe for Pineapple rice is a Thai version.
The recipe I am sharing is more of an Indian version. The best thing about the recipe is that you can adjust the spice level to your liking.
Even if the spices seem too strong, the chunks of pineapple come to your rescue! I added coconut milk for extra flavor. But it is really up to you if you like the coconut flavor in pineapple rice.
Actually, that will be called coconut pineapple rice. 🙂
What kind of rice is best suited for pineapple rice?
I like to use Jasmine rice for most of the rice dishes I prepare because it is easy to cook and tastes better than Sona masoori rice, for this recipe. However, any long-grain variety like Sona Masoori or Basmati rice goes well for this recipe. If you are using brown rice, however, you may have to cook it longer than what I have shown here.
How to make this
Instant Pot not only makes the cooking process faster but also makes the cleaning job easier with only one pot to wash! You can saute the vegetables, add rice, spices, coconut milk, and pressure cook...all in the same pot. You can save this instant pot pineapple rice for up 1 week in the refrigerator.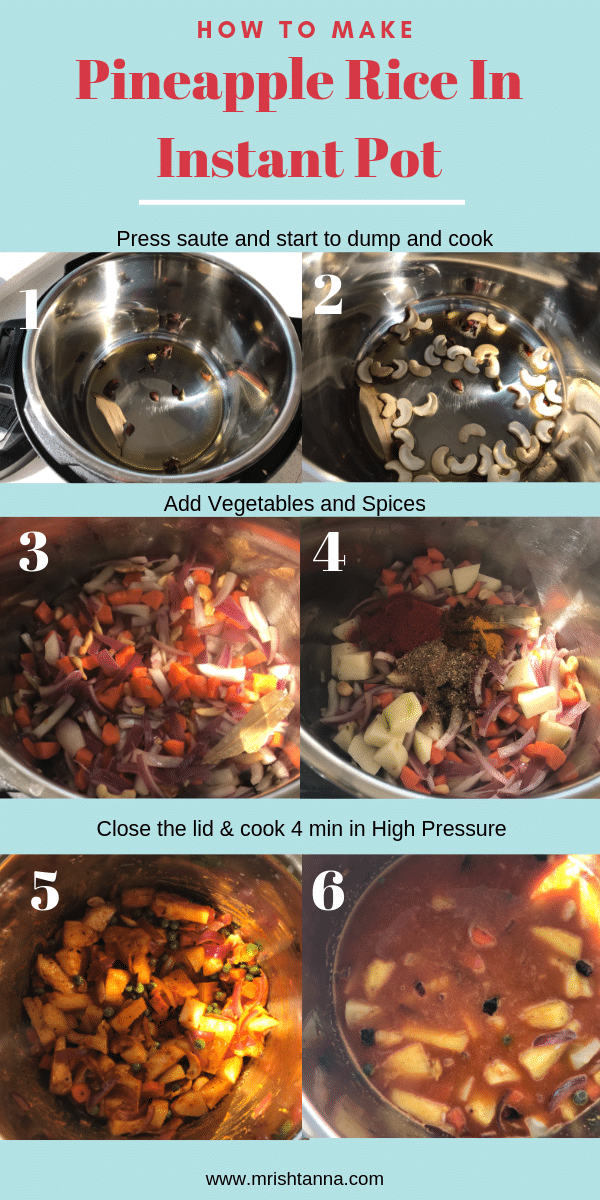 Pineapple rice vs pineapple fried rice
If you prefer Pineapple Fried Rice instead, just add soy sauce and hot sauce instead of the Indian spices. Adding crushed garlic and ginger will help too. But there is definitely no shortage of flavor in the Pineapple rice recipe. Fresh flavors from spices like star anise, cloves, cardamom and a few ground Indian spices like coriander, cumin make it a unique experience.
Few tips and notes
Wash the rice in clean water before using it in the instant pot rice recipe. Unwashed rice tends to get mushy with the extra starch and affects the texture of the dish.

The ratio of water to rice is based on Jasmine rice. If you prefer to use a different kind, be sure to adjust the water ratio as well.

You can skip few spices (if do not have) that would not change the taste in a big way...

Garnish with cilantro or slices of cucumber to suit your taste.

I used coconut milk for this recipe, but almond milk is also a fine option.

Best way to serve Pineapple rice is by pairing it with any kind of hot sauce, or Indian yogurt raita(vegan), and potato chips.
You may like
Just subscribe to my newsletter for more delicious vegan recipes such as this sent directly to your inbox.
Did you love this recipe? Rate it five stars!
And let me know what you loved about it in the comments.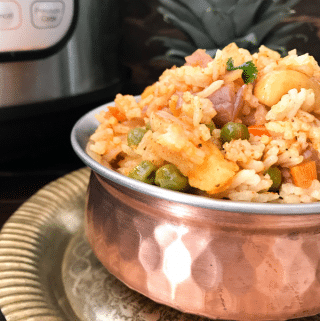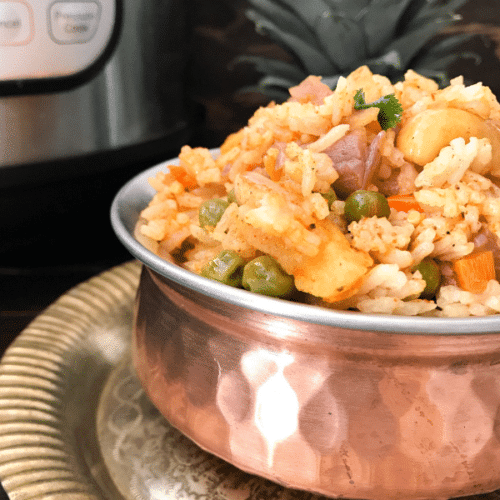 Vegan Pineapple Rice - Instant Pot Method
For this recipe, I used basic Indian spices and fresh vegetables along with sweet tasting pineapple.
Instructions
Add oil to inner pot in Instant Pot and press the sauté setting.

As the oil heats up add cloves, cardamom, bay leaf, and star anise. Saute for 30 seconds.

Add Cashews and saute them for another 20 seconds.

Follow up by adding onions and grated ginger. Stir constantly for a minute.

Add chopped carrots, frozen peas, and cubed potatoes. Continue to stir for at least another 30 seconds.

Add the variety of spices: Chili powder, Ground Turmeric, Ground Cinnamon, Cumin & Coriander. Continue to stir for a minute.

Now add pineapple chunks, coconut milk, salt and rinsed, clean rice. Mix them well.

Add water and give it a good stir one last time.

Close the lid of the instant pot and turn the steam release handle to "sealing" position.

Select the pressure cooking option (high pressure) and set the time for 4 minutes.

When time is up, open the lid using natural release.

That's it! Instant Pot Pineapple rice is ready! Serve it hot with a side of sliced cucumber or pair it with potato chips!
Process Shot
Check above for step-by-step pictures (most of my recipes include pictures)
YOUR OWN NOTES
Nutrition
Nutritional information is an estimation only.