Sweet & Simple Pineapple Tofu Curry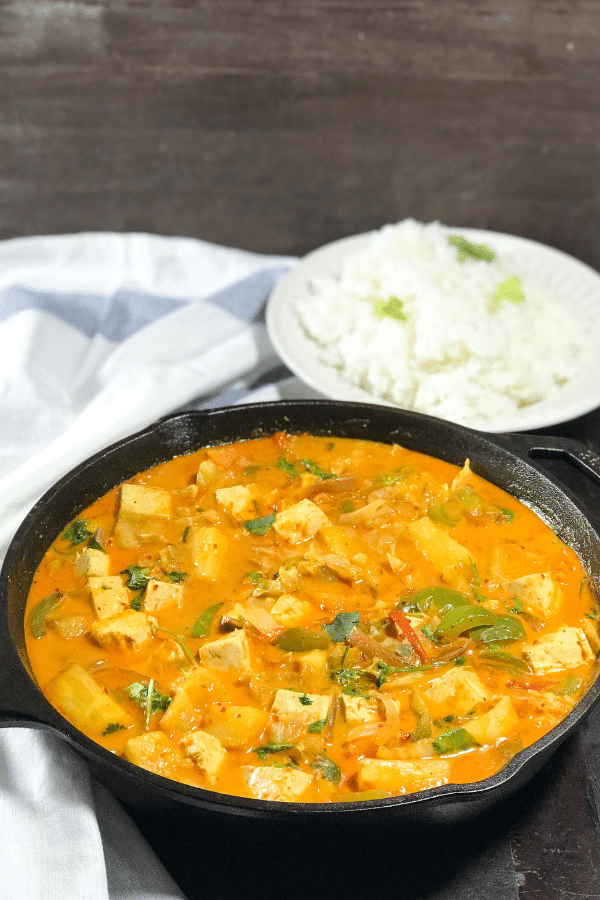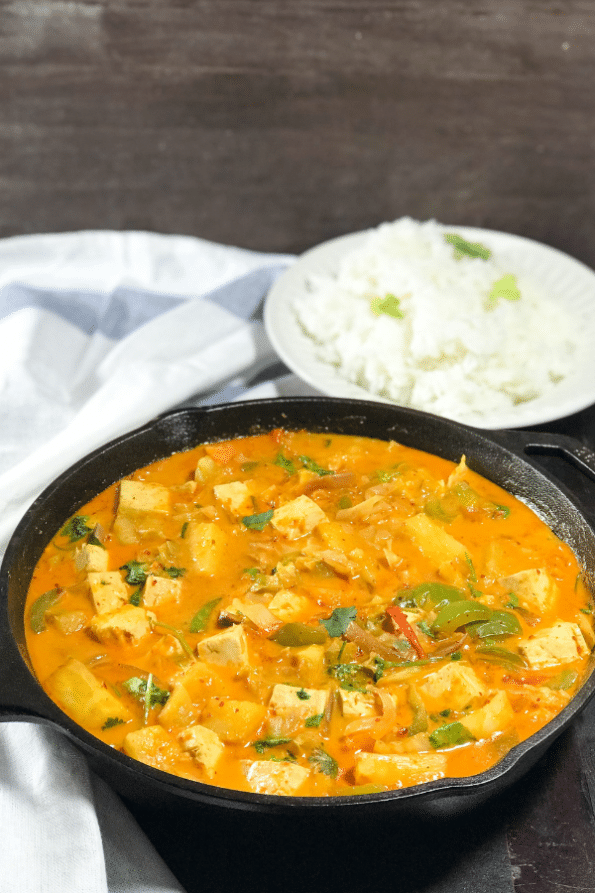 If you are a coconut lover like me, you have to try this dish to enjoy the tropical flavor along with coconuts best friend, the pineapple. I know you are thinking of Pina Colada, but this dish is probably better tasting and definitely more filling than the drink. Today's recipe is  Pineapple Tofu Curry.
This pineapple curry is my family favorite so I prepare this often and I have more recent pictures to share.
few tips to make pineapple tofu curry
You can add any type of vegetables, this time I have added bell pepper instead of zucchini.
If you are not able to find coconut cream, add the top layer of canned coconut milk.
After adding coconut cream do not overcook.
Pineapple curry is an easy to prepare, vegan, and gluten-free dish. Not to mention, it is a one-pot curry.
Old Pic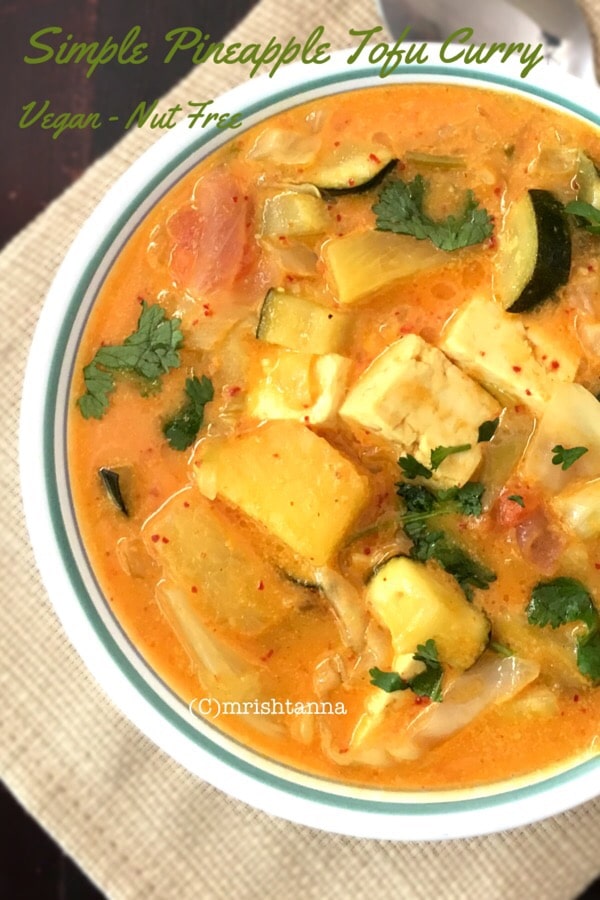 Here's a secret: I would not post coconut based recipes such as this and Coconut Mango or Coconut Semolina if it weren't for you. The feedback I received from them was very positive and I have received a lot of requests for recipes with coconuts.
How to make pineapple tofu curry
For today's recipe with Pineapple and Tofu will deserve equal credits as coconuts do. I also added Cabbage and Zucchini to the mix to balance out the sweetness from Pineapples. 
You can also choose any other vegetable option like bell pepper, Carrots or Broccoli. The important part is you have to check how sweet the pineapple is and adjust accordingly. The next important spice in this recipe is the red peppers.
The flavor mix from peppers and coconut is reminiscent of Thai cuisine, but this dish is more of a fusion of Thai and Indian cuisines. Last but not least, the Tofu you need will need for this dish is the medium to firm type. You definitely do not want them falling apart in your curry when it is too soft.
Check out my other Pineapple recipes like Pineapple rice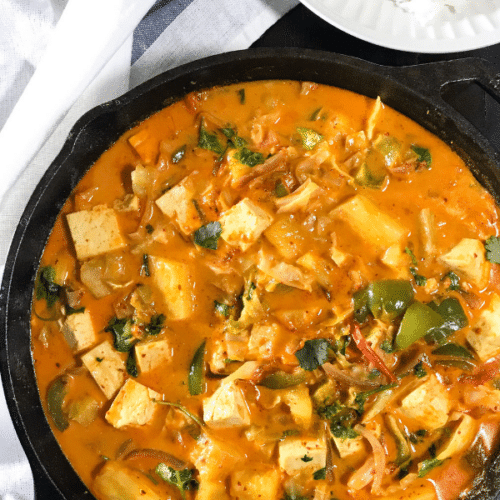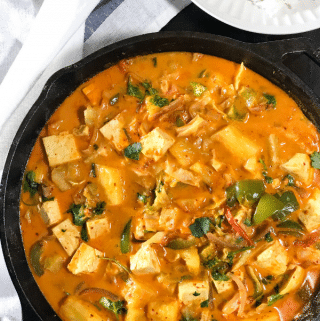 Simple Pineapple Tofu Curry
Instructions
Place a pan on medium heat and saute garlic, ginger and red chilies with 1 tsp oil until the garlic turns golden.

Blend them with coconut milk to a smooth consistency and place it aside.

Now, place another pan on medium heat and saute onions with 3 tsp oil.

When they turn golden and transparent, add cabbage and continue to saute for 3 minutes.

Add Zucchini, Pineapple and Tomatoes let them cook for 2 minutes.

Add salt, turmeric powder, and ground black pepper.

Stir well and cover the lid for 5-8 minutes.

As the vegetables soften, add Tofu, blended chili paste. Let it simmer for 5 -8 minutes with the lid on.

Add coconut cream, stir well. Turn off the heat and garnish with cilantro.
Nutrition
Calories:
253
kcal
|
Carbohydrates:
13
g
|
Protein:
4
g
|
Fat:
20
g
|
Saturated Fat:
18
g
|
Sodium:
34
mg
|
Potassium:
443
mg
|
Fiber:
2
g
|
Sugar:
5
g
|
Vitamin A:
660
IU
|
Vitamin C:
101.7
mg
|
Calcium:
31
mg
|
Iron:
2.6
mg
Simple Pineapple Tofu Curry is ready to serve with steamed Jasmine rice or Indian Rotis. That's a Sumptuous dinner cooked in 30 minutes!
Let me know how your curry turns out. As always, keep the comments coming. You can leave a comment on this page or on my Facebook page. For more recipes please subscribe through email.
For more delicious vegan recipes such as this sent directly to your inbox, just subscribe to my newsletter. You will also get a copy of my e-book where I have put together some simple vegan dessert recipes and dessert essentials. My readers have found it very helpful and I am hoping you will too!
Pin this recipe for later use