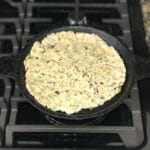 Print Recipe
Akki Roti Recipe
All it is is a crispy rice dosa with a healthy serving of garden fresh vegetables. It is really up to you to make it crispy or soft & chewy, but you definitely get the goodness from carrot, ginger and dill leaves in a breakfast recipe.
In a big bowl mix all the ingredients one by one. Make sure to use fine rice flour and not coarse. Now add ¾ cup water and start to mix the flour. Add more water as required and knead to the smooth and soft dough. The akki roti dough is ready, Make small balls and place them aside.
prepare Akki rotti :
Grease the parchment paper or banana leaf. take the dough ball and tap gently and begin to flatten it evenly. If needed, dip your fingers in the water and spread the dough. Make 3 holes, this will help to roast as we can add oil in the center.

Now flip over to hot tawa and press gently. After a few seconds remove the parchment paper gently. flip over the rice roti once the base is cooked. now add oil and roast both sides until it turns slightly golden.
Second method:
Place a pan over medium heat. Drizzle a drop or two of vegetable oil. When the pan is hot, fry the rotis (Dosas). Flip them until you get the desired crispiness.

Check my video if you have any questions.
One word of caution is that rice flour is inherently dry in nature and it is normal to have a few imperfections on the dosa when you roll them.
Adjust the spice level to suit your taste preference.
Apart from coconuts, the choice of vegetables is really up to you. I chose to go with grated carrots, ginger, dill leaves, and green chilies. Other choices are broccoli, radish, and cilantro leaves.
Feel free to skip the coconut flour.
Notes: The nutrition values I show here are my best estimates. Please be sure to check your preferred nutrition calculator, if you are relying on accurate calculations in your diet.
Calories:
387
kcal
|
Carbohydrates:
69
g
|
Protein:
6
g
|
Fat:
9
g
|
Saturated Fat:
2
g
|
Trans Fat:
1
g
|
Sodium:
17
mg
|
Potassium:
65
mg
|
Fiber:
5
g
|
Sugar:
1
g
|
Vitamin C:
1
mg
|
Calcium:
9
mg
|
Iron:
1
mg