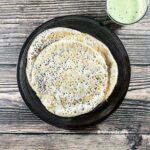 Print Recipe
Methi Dosa
Methi Dosa is a soft Dosa made with Fenugreek seeds and Rice. Methi seeds are a powerhouse of nutrients and they also keep the body cool. So this perfect for summer days.
How to prepare the batter
Start by rinsing the rice well to remove all the starch. Then soak rice and methi seeds for 6 hours. Once it's soaked well, drain the water. Use a high-power blender or stone grinder to blend the soaked rice and methi seeds.

Add a small batch of rice to the blender for every bath. I added 1 ½ cup water while blending. I prepared the dosa batter in two batches. So in total, I used 3 cups of water to prepare the methi dosa batter.
How to make dosa
Keep the batter overnight for fermentation. I placed it inside the oven with the light on for a warm place. Ferment the batter for 10 hours or more.

Add 2 teaspoon salt and mix gently, and dosa batter is ready.

Heat the dosa griddle with a little oil, pour a ladleful of batter on hot tawa, and spread gently, forming a slightly thick dosa. Sprinkle oil over the dosa.

After one side is cooked, flip it around. Cook for a minute or until the dosa is cooked completely. Enjoy methi dosa with tomato chutney.
I tried mixing in a little brown rice with the long grain rice to balance out the glycemic index. The traditional way would be to prepare it with just long-grain rice. It is primarily the Methi seeds that bring unique flavor and texture to the dosa. 
When you let the batter ferment, be sure to store it in a warm surroundings. As the fermentation cycle completes, you will have to add salt to stop it from fermenting more.
Be sure not to add the salt before it ferments....but I suppose you already knew that :-)
An ideal combination for this dosa is to serve it with a spicy and savory chutney or curry.
Calories:
218
kcal
|
Carbohydrates:
36
g
|
Protein:
4
g
|
Fat:
5
g
|
Saturated Fat:
1
g
|
Polyunsaturated Fat:
1
g
|
Monounsaturated Fat:
3
g
|
Trans Fat:
1
g
|
Sodium:
2
mg
|
Potassium:
127
mg
|
Fiber:
2
g
|
Calcium:
16
mg
|
Iron:
1
mg