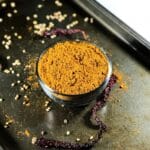 Print Recipe
Sambar Powder Recipe
Sambar powder is a flavorful South Indian style spice powder, prepared by grinding an exquisite mix of basic Indian spices.
1

cup

coriander seeds

¼

cup

black gram/ Urad dal

1

tablespoon

cup cumin seeds

5

dry red chilies

15

Byadagi red chilies

1

teaspoon

fenugreek

1

strand curry leaves

optional

1

teaspoon

Coconut oil

optional
Place a big vessel over medium heat. As it heats up, saute the Urad dal (black gram) and chana dal(Bengal gram) until they turn golden brown and place them aside.

Saute cumin seeds and fenugreek seeds on medium heat until they turn light golden and place them aside.

Sauté (with 1 teaspoon coconut oil) the coriander seeds for 30 seconds and add dry red chilies. Continue to stir until you get a golden yellow hue. Place it aside and saute the dry, washed curry leaves until they turn crispy. Switch off the heat.

Place all the spices in a big tray and allow them to cool and blend them in a coffee blender or a high-power blender to a fine texture. Store it in an air-tight container to keep the freshness intact.
Use fresh spices to get the best-tasting powder.
Be sure to pick the right kind of dry red chilies. If you cannot find the dry byadagi red chilies, try similar red (dried) chilies.
Using curry leaves in this recipe is optional. That's because you could always add fresh curry leaves when you prepare the sambar or curry.
You can saute the chilies with coconut oil, but I sauteed them with coriander seeds because it tempers the burning odor from red chilies.
I used 5 regular red chilies and 15 byadagi chilies. Use any variety of your choice.
Feel free to use 1 whole dry turmeric root to get bright colors.
This recipe yields about 240 grams of sambar masala powder.
Note: The nutrition values I show here are my best estimates. Please be sure to check your preferred nutrition calculator, if you are relying on accurate calculations in your diet.
Calories:
35
kcal
|
Carbohydrates:
2
g
|
Protein:
1
g
|
Fat:
1
g
|
Saturated Fat:
1
g
|
Sodium:
2
mg
|
Potassium:
52
mg
|
Fiber:
2
g
|
Vitamin A:
1
IU
|
Vitamin C:
1
mg
|
Calcium:
29
mg
|
Iron:
1
mg