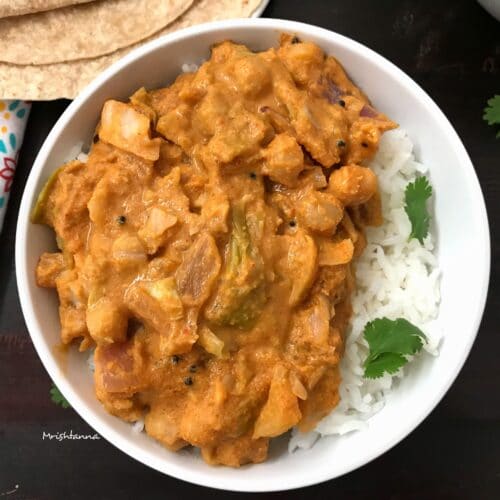 Print Recipe
Cabbage Chickpeas Curry
Cabbage Chickpeas Curry is a curry made with a fresh blend of spices along with a sweet flavor of coconut and jaggery. It is a truly unique curry with its distinctive taste and ingredients.
Soak the Chickpeas for 6 hours and steam cook them in a pressure cooker with a cup of water.

Drain all the water and place them aside to cool down.

Place a pan over medium heat and drizzle 1-2 teaspoons of oil. As the oil heats up, add Urad dal and fry for few seconds and follow up with cumin seeds and fry until they turn golden.

Add red chilies fry until they are crispy (about a minute).

Remove off heat and blend them with coconut and 2 cups of water. Set aside for later use.

Place a medium size pan over medium heat and start to sauté chopped onions with a teaspoon of oil.

When they turn translucent, add the chopped cabbage and stir for an even mix.

Add 2 cups of water and let it simmer for 15 minutes.

Add jaggery, tamarind and salt. Stir well.

Add the cooked Chickpeas and let it cook another 2 minutes.

Add the blended coconut paste and continue to stir.

Add curry leaves and let it simmer for another 5-8 minutes.

Switch off the heat and prepare mustard seeds seasoning or tempering: Place a pan over medium heat and saute mustard seeds, red chilies in 2 teaspoons of oil. As they start to splutter, switch off the heat and add asafoetida then add them to the curry.