Today my recipe is Sambar Masala Oats. If you like a creamy bowl of hot served oatmeal for breakfast, just imagine that with a spicy indian flavor garnished with Cilantro!
It is a premier fusion recipe that combines traditional American flavor with Indian spices. I tried this with the Sambar powder that I made and turned out to be a delicious combo! It's a wholesome breakfast with just the right serving of vegetables, fiber and spices. Be sure to use whole grain oats for this recipe. Steel cut oats take longer time to cook and does not suit very well for this dish. If you still prefer to use the steel cut oats, be sure to soak it overnight or cook it long enough to soften the oats. This is another dish where you can pack in a full serving of vegetables right into your breakfast. I personally prefer carrots, but you could also try a combination of bell peppers, green beans and peas. If you prefer it less spicy, you can just go easy on the sambar powder or use fewer green chilies.
Try a serving of sambar masala oats with a cup of chai for breakfast today!
Sambar Masala Oats is my newest option for breakfast and I have a few other fusion flavors lined up for oatmeal! For now, here's the recipe for Sambar Masala Oats! Enjoy!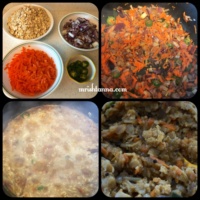 Print Recipe
Sambar Masala Oats Recipe
Instructions
Place a vessel over medium heat and drizzle 2 tbsp oil. When oil heats up, add mustard seeds, black gram and red chili.

When the seasoning sputters, add curry leaves.

Soon after curry leaves, add chopped onions and sauté them until they turn transparent.

Add minced ginger, green chilies, grated carrots and continue to cook.

After about 3-5 minutes, add turmeric powder, sambar powder and continue to cook thoroughly.

Add 4.5 cups water, salt and place a cover on top to speed up boiling.

When it starts to boil, add 2 cups oats and mix thoroughly to make sure there are no lumps. Place a cover on vessel and let it cook for about 3-5 minutes.

Sambar Masala oats is ready. If you prefer the oats to be softer, add a little more water and salt to taste.
Nutrition
Nutrition Facts
Sambar Masala Oats Recipe
Amount Per Serving (4 g)
Calories 0
* Percent Daily Values are based on a 2000 calorie diet.
                   Garnish with cilantro and serve hot!