Have you ever tried a new dish at a restaurant and wondered how they make it so good, yet when you try the same dish its never the same? I have had that experience and my experiments never stopped with one trial. After a few trials, I think I have perfected this dish: Creamy green peas masala. Matar paneer masala is my favorite among North Indian dishes. The creamy consistency of matar paneer is simply irresistible, but without knowing the nutritional value, I always felt guilty eating it. That's why I decided to try my own healthy(ier) version 🙂
My version does not use heavy cream, butter or cheese and yet tastes better than most restaurants. Try this green peas masala with rice or jasmine rice, chapathi or paratha, puri and even bread. I was really happy how the dish turned out especially because it was a hit with my kids as well. Try this today and let me know how it turns out!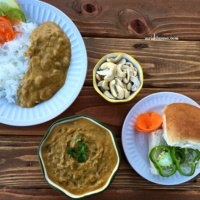 Print Recipe
Creamy green peas masala
Ingredients
1

teaspoon

cumin seeds

4

cloves

5

cinnamon sticks

1/2

tsp

cardamom

1/2

tsp

turmeric powder

1

tsp

red chili powder

1

onion chopped

2 to

matoes diced

2

garlic cloves

1/2

inch

ginger chopped

2-3

green chilies chopped

14

cup

cilantro

1/4

cup

cashew nuts

1

cup

boiled green peas

Salt

Oil
Instructions
Cook the peas in pressure cooker until they are tender.

Soak the cashews in water. To be used later.

Fry cloves, cardamom, cinnamon stick and cumin seeds over 2 tbsp oil in a large skillet. Fry them until you can smell the aroma

Add chopped ginger and chopped garlic. Sauté them until they turn golden.

Add green chilies, chopped tomatoes, cilantro and continue to cook. After the tomatoes are cooked thoroughly, take the skillet off the heat and let cool.

Blend them with 1/2 cup water and soaked cashews to a smooth consistency.

Place the same vessel over medium heat and fry onions with 2 teaspoons of oil. When the onions turn transparent, add turmeric powder and chili powder and continue to cook.

Pour the blended creamy paste to this and continue to cook. Add a little water, if necessary.

When it starts to boil, add boiled green peas and salt and continue to cook for about 1-2 minutes.
Nutrition
Creamy green peas masala is ready!
Serve hot with plain white or brown rice. Peas masala goes very well with chapathi or puri or even bread. Share your taste in comments section 🙂
Here is a small video clip showing step by step how to make Creamy green peas masala.