Can you prepare a dessert with five ingredients? That's exactly what I will show you today.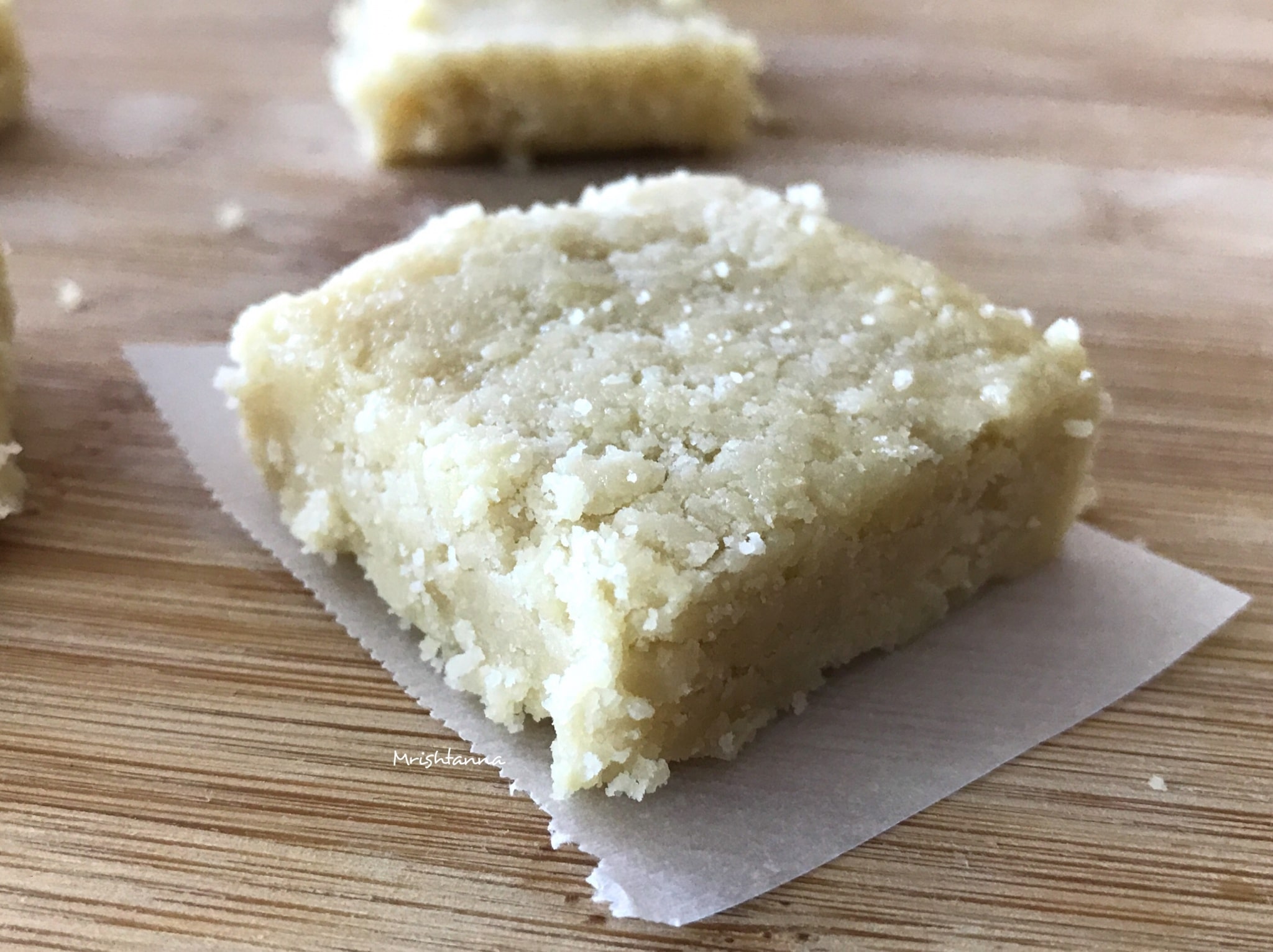 Desserts are everyone's favorite part of a sumptuous meal and Vegan Almond Squares fits the bill perfectly! Almond Squares, (a.k.a Almond burfi in India) is one of my childhood favorite among barfi recipes. Coconut Barfi is probably the most popular version, but this vegan almond barfi version will be an eye-opener for those who have never tried it.
There are several ways to prepare barfi recipes and several ways to add aroma. Most of the barfi recipes show cardamom flavor.
In today's recipe, I show a fresh and new way of adding aroma. I have used saffron strands. Although a little is more expensive than cardamom, saffron strands show their presence with their divine and rich aroma.
As few as 4-5 strands of this wonder spice goes a long way in adding flavor to your Barfi.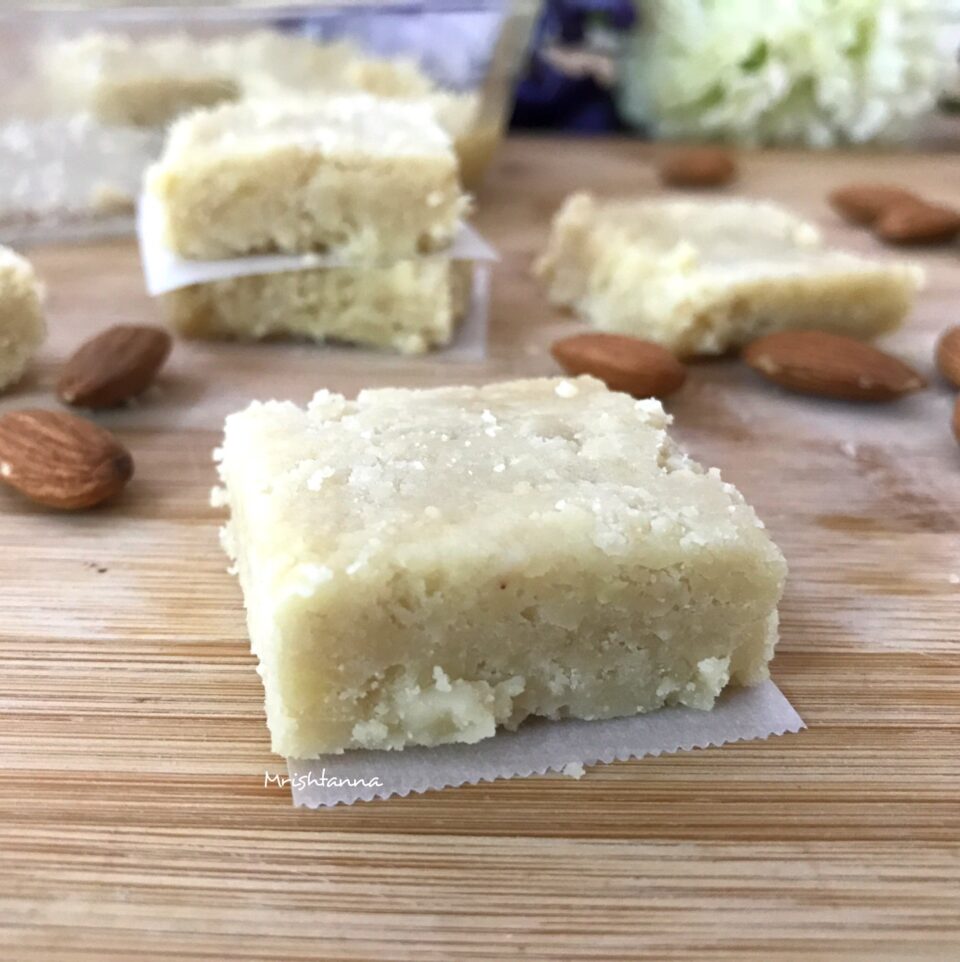 It can sometimes be difficult to get the right consistency and texture when you prepare almond barfi. It is important to keep the mixture stirred at all times. Read my step by step instructions and my video for more details.
As the festival and holiday season is approaching, Vegan Almond burfi can be an excellent dessert option.
Try it today and let me know how you like it! Vegan desserts are a lot simpler than you think, but there are some basic essentials you will need to make it easy.
FAQ
What can I make with lots of almonds?
you can make this delicious badam burfi Indian sweet if you have lots of almonds.
How long i can store the burfi?

This burfi will stay fresh up to 2-3 weeks if you store it on the air tight container.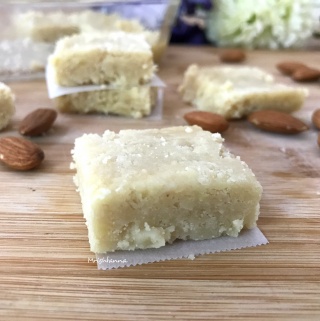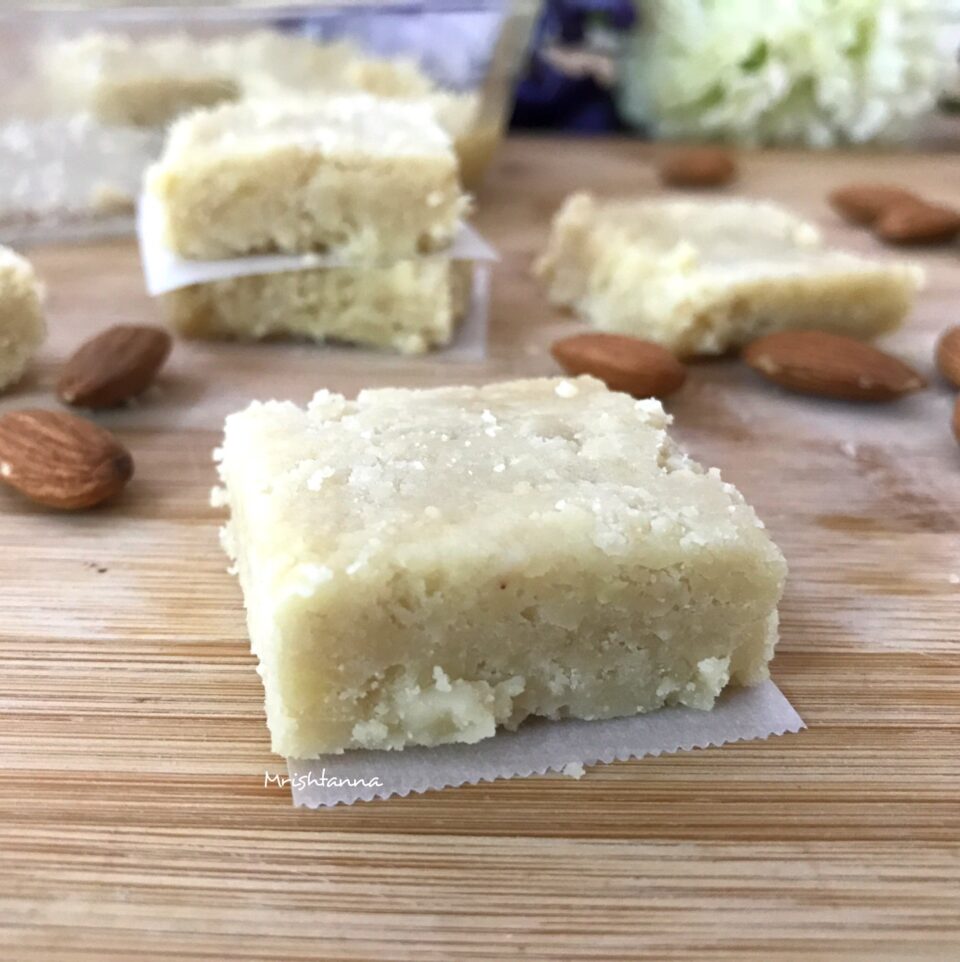 Almond Barfi - Badam Burfi
As the festival and holiday season is approaching, Vegan Almond Squares or almond barfi can be an excellent dessert option.
Ingredients
1

cup

whole almonds

¾

cup

organic sugar

½

cup

water

4-5

Saffron strands

1

tablespoon

oil
Instructions
Soak the almonds in hot water for 30 minutes.

Peel the skin from almonds and pat dry with a towel.

When the almonds are dry, blend them into a fine powder and place it aside.

Mix the sugar with ½ cup water and boil it in a pan over medium heat.

As the water boils, add powdered almonds and stir well.

Continue to stir and add the oil and saffron strands.

Continue stirring until the mixture starts to gt a consistency of dough. Check out my video!

Transfer them to a greased tray, flatten and cut into desired shapes.
Process Shot
Check above for step-by-step pictures (most of my recipes include pictures)
Video
YOUR OWN NOTES
Nutrition
Calories:
237
kcal
|
Carbohydrates:
8
g
|
Protein:
8
g
|
Fat:
21
g
|
Saturated Fat:
2
g
|
Sodium:
2
mg
|
Potassium:
252
mg
|
Fiber:
4
g
|
Sugar:
1
g
|
Calcium:
94
mg
|
Iron:
1
mg
Nutritional information is an estimation only.
Almond Barfi or Vegan Almond Squares are ready!